Promotions, Special Offers & Special Events

Whether you're a bride to be or you're looking to enjoy a big bash this holiday, we've got you covered with the latest Bridal Shows, Expos, and upcoming Specials and Events happening at all of Long Island's catering halls and facilities. From holiday specials that include drinks, dining and entertainment at some of Long Island's most lavish halls, to open houses and fairs showcasing local wedding venues, caterers, and services, we've got the scoop on the latest happenings at all of the most luxurious locations where you book your upcoming party, or enjoy a night on the town. Attending open houses and special events at catering halls and restaurants is a great way to get an inside look into the services they provide, as well as an overall feel for the ambiance of the facility. For anyone who has a big event coming up, but hasn't quite finalized the location, be sure to check back here regularly for upcoming bridal shows, events, and more happening right here, on Long Island.
Sponsor: Long Island Bridal Expo
The Long Island Bridal Expo, Connecting Brides and Grooms with Wedding Professionals.
For the past 26 years, Long Island Bridal Expo has helped brides and grooms engage in meaningful conversations in an intimate atmosphere with 35-40 experts.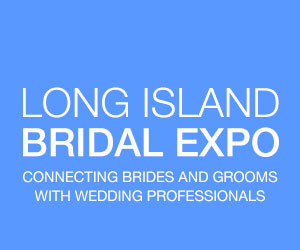 Long Island Bridal Expo features a wide variety of exhibitors featuring Photography, Videography, Wedding Gowns, Flowers, DJ's with Musical Performers, Invitations, Cakes, Tuxedo's, Hair and Makeup, Salons, Financial and Insurance, Real Estate and Mortgage, and More! Meet representatives from Caterers and Wedding Venues plus designers and unique resources that provide enhancements such as Photo Booths, Décor and Uplighting. There are luxury limousines, buses and trolleys on display and a Live DJ showcase and Fashion Show featuring the latest designer gowns. At Long Island Bridal Expo, you will find "Everything for your wedding under one roof".
Long Island Bridal Expo is the best way to plan your big day plus it's FREE admission for brides, grooms, family and friends.
Win Thousands of Dollars in Prizes and Discounts!
Doors open 6:30 - 9:00 PM.
Reservations are suggested or register online at https://longislandbridalexpo.com/register/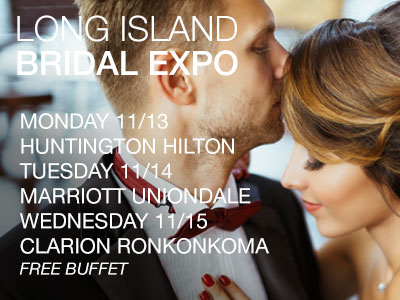 November 2017
Monday 13 Huntington Hilton
Tuesday 14 Marriott Uniondale
Wednesday 15 Clarion Ronkonkoma (Free Buffet)
---
Vendor Promotions and Specials