Westhampton Manor
The Hampton's in New York have been a part of outdoor occasions, like vacations and even weddings for years. The West Hampton Manor has the elegance and the beauty that you are looking for. Any woman would be thrilled to have her wedding in the Hampton's or a weekend getaway with her gal pals. A girl celebrating her sweet 16-birthday celebration would also have a lovely time at West Hampton Manor.
West Hampton Manor can be your home away from home. Summer homes can take the stress out from your hectic everyday life and you can even have your corporate parties or meetings in the Hampton's and make everyone's lives a bit easier and certainly more beautiful. West Hampton can offer you and your husband or best friend private docks with ocean access and the beach is a mere 3 minute drive away. Village Main Street is only a 5-minute walk from your beachfront home. Having your wedding on the beach and then returning to your waterfront home for the weekend is a great way to start a brand new life.
The properties are lush with surrounding trees and the ocean breeze brings a calmness to your stay. You have access to a pool, spa, and sauna within the white walls and openness in your weekend home. Your stay will be filled with glorious views and windows that open up the home and are warm and inviting. With 7 bedrooms, there is enough space for a group of friends or you and your fiancé or husband can use the home as a private get away. The staff quarters are separated from you so they are there when you need them and far enough away to give you the privacy that you need.
Make the Hampton's your summer home or weekend getaway in the off-season.
Simultaneous Events

1

Business Events

Outdoor Area
For more details about amenities, please message the Venue.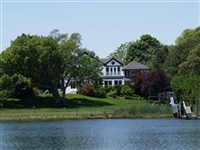 917-306-5600
Stats
15,316 views since Feb, 2010
Appears In
Share